Cowhide Bag Care
Cowhide Bag/Wallet Care
Caring for your stylish new BRAZILIAN cowhide bag or wallet !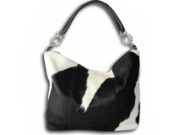 Your cowhide bag/wallet from The Cowhide Co is made using the softest, most luxe cowhide we can source.
Colour variations and differing hair direction is a natural feature therefore each is completely unique.
Over time hide may become shorter in areas that receive repeated friction. This is a natural progression of the hide and should not be considered an imperfection. In order to slow this natural process please avoid harsh wear, change the side your bag is wore on and store in clean dry area

To clean the cowhide brush delicately in the direction of the hair to remove loose dirt. Then, using a damp cloth, gently rub the fur being sure to avoid excessive moisture.